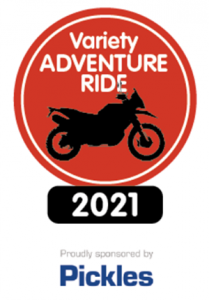 This was a special event riding adventure bikes through the outback of NSW and popping just over the border into QLD. The ride was to raise money for the Variety Club NSW. We have all heard of or seen the Variety car rallies where they drive older cars and get dressed up and raise huge amounts of money. This year they organised the Adventure Ride bike rally for those riders who were keen to be a part of this epic bike ride covering close to 3,000 km by the time we were finished.
We had 35 riders entering which was way and beyond their expectations and we raised close to $105,000. Our company Gabes Cleaning Services had three riders sponsored and a friend joined our team so collectively we raised just on $20,000 which was a fantastic effort.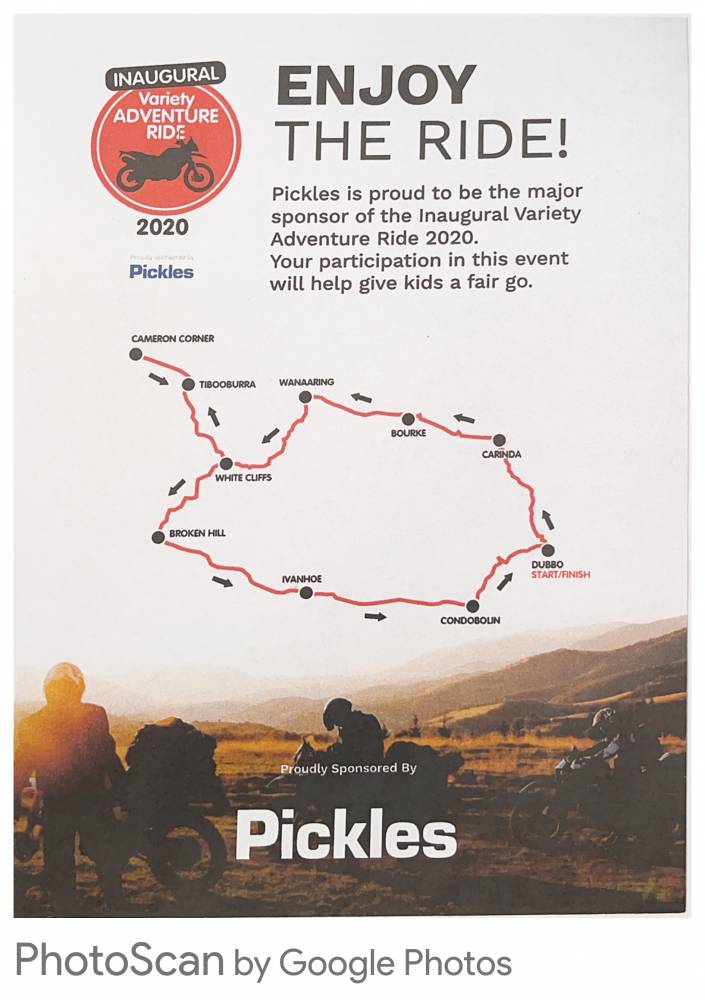 Our team consisted of me (67 years old) Brad, my son (41) Adam Love (47) and Frank Loveridge (over 60 he tells me). We had a combination of bikes for the ride. I had just purchased a new Yamaha Tenere 700 T7, Brad rode his KTM 690 Red Bull colours, Adam rode a Suzuki V Strom 650 and Frank rode his new bike a Royal Enfield Himalayan. Out of the four of us on our team Frank was the newcomer to off road riding while the rest of us have been riding on dirt for many years. 60 percent of our riding was to be on unsealed roads and tracks.
Covid 19 was still a major concern for the organisers with state borders being closed, areas in lockdown and there was a real chance the ride could have been called off for any of the above reasons. Our other concern was of course the weather. Long range weather forecast had us riding our longest day of over 600 km on dirt in the high 30's. At the other end of the scale was the constant rain falling in our riding area with a lot of local flooding. The boys who did the test ride a few weeks prior were caught in one such downpour which quickly flooded the outback tracks. They took 9 hours to ride 10 km and one of the riders had a fall in the middle of nowhere breaking his collarbone but had to keep riding just to get back to safety.
17th October 2020
Maitland to Dubbo
We trailered 3 bikes to Dubbo and Frank loaded his into his van and met us at Dubbo showground where the bikes were scrutineered, numbered and approved ready for our ride to commence the next day. We headed back to our caravan park and got ourselves sorted for the morning. We had a transport van to carry our luggage and spare tyres plus any other spares you may want to carry. We sorted everything that we would need for big adventure the next day. We were fortunate that we could leave our car and trailer in the caravan park.
Day 1 – 18th October 2020
Dubbo to Bourke
The weather was overcast with some rain last night with thunderstorms over our route with minor flooding and as a consequence it was unsafe to allow us to follow the original route on the dirt tracks so we were told to stay on the bitumen to Bourke. Rather than follow the direct route to Bourke we decided to detour through Cobar as Adam had never been there before. We had a full day to fill in so took our time and did some sightseeing.
Most of the other riders took the more direct route to Bourke while we visited Cobar. When we left Cobar we could see the black clouds ahead of us and expecting to be hit by the storm. Fortunately the storm passed before us, leaving a very wet road and large amounts of water running alongside the road, thankfully it missed us. Unbeknown to us the storm continued over the more direct route that everyone else had taken and every rider got soaked as they didn't have time to find shelter or get their wet weather gear on. So we were thankful for Adam's little detour.
We had a great night together with everyone talking about the storm and their adventures for the day. It was Brad's 41st birthday (actually it was the next day) so they called him up and presented him with a little cup cake and of course we all joined singing happy birthday.
Unfortunately Bourke has a reputation for things going missing if not locked away or secured properly. We were fortunate to lock our bikes away in a shed provided by our host. The local kids came from everywhere when we arrived and it didn't take long to realise how lucky we were that our bikes were locked up for the night.
My embarrassment for the day was running out of fuel 500 metres from our destination and 200 metres from a service station. My new bike has a small fuel tank with a 300km range which is very small for an adventure bike. I was conscious of the fuel light flashing and thinking I still had another 20-30 km left I spluttered to a stop to everyone's delight. Brad had to tow me to the nearest service station and of course there were many jeers and videos being taken. Thankfully it never came up at dinner. I had a few more scares with fuel and distance over the coming days.
Day 2 – Monday 19th October
Bourke – Wanaaring – White Cliffs. Actual route was via Wilcania
We were told this morning that we could not get into Wanaaring as the town was isolated and all of the roads around the area were closed. Which meant this dirt section of the leg has also been cancelled as it received too much rain over the past few days and it was too dangerous to leave the bitumen. Many weren't very happy and were keen to go anyway. The problem with this was if anyone was injured they would not have the support of our Paramedics travelling with them nor have access to our rescue trailer so it was decided that everyone would stick to the tar – almost everyone. There were a few riders who decided to take the challenge and paid the price with them and their bikes covered in mud and obviously a few falls along the way. They said they had fun but they didn't convince the rest of us.
Our route to White Cliffs today took us through Cobar again. Adam had never visited the place and here he was two days in a row. So we stopped for morning tea in the same little café as yesterday and again had the best cakes and pies. We headed for Wilcannia along the Barrier Highway. We realised with the distances we had to travel and my smaller fuel tank we never missed an opportunity to fill up at every fuel stop. We headed out and Brad and I pulled away from Adam who seemed to be day dreaming but stopped after an hour for a pee break on the side of the road. Brad rode up behind some trees in the shade while we waited for Adam. In doing so we waved to a lot of bikes passing us not realising one of these was Adam who just kept going. After another 30 minutes of waiting for Adam to catch us Brad finally decided to check his phone which was linked to Adam's to locate him only to find him 50 km in front of us. Finally we made contact and caught up with him. Enquiring why he didn't stop he said he waved at me but didn't see Brad and was trying to catch him. We thought that strange and of course let it be known to everyone who had a lot of fun at his expense. Where was Frank? Frank's bike was much smaller than ours and as a consequence we rode ahead and left him with a group of riders with similar bikes and speed. With the open roads we were moving along very quickly and just a little more than the speed limit.
Another fuel stop in Wilcannia and Brad's first problem with his bike. When he was fuelling up he noticed fuel running out of one of his spare tanks. KTM's have provision for two smaller fuel tanks to supplement the small main tank, it was one of these that was leaking. It was found that the muffler had come loose and rubbed a hole in one of the spare tanks. The tank was in the worst possible spot and Brad and Adam had to pull the back of the bike apart to get to the fuel tank while I went into the service station to buy some metal putty to plug the hole. It was a miracle that they sold this product.
We made it to White Cliffs late afternoon and decided to pick up our bags from the support truck, book into the Underground Hotel then go for a ride around town to get our bearings. There was a dry dirt road that we followed for at least 50klm and then returned back for showers and dinner. It was good to get some dirt riding in for the day and prepare ourselves for the following days ride.
Our support truck was manned by two volunteers over the full length of the trip. Not only did they volunteer their time they also paid for all of the fuel themselves which was extremely generous of them. They carried all of our bags and two spare tyres for each bike. They were great characters as you can see from the photo.
Our hotel had a stairway to the roof so you could go up and look at the beautiful sunset. This is just one of many photos taken on a lovely clear evening.
Day 3 – Tuesday 20th October
White Cliffs to Tibooburra to Cameron's Corner and back to Tibbooburra. Distance 470km
Today's ride in warming conditions and no sight of rain or a wet road was perfect. Every rider gathered for breakfast which was provided by one of the local community groups for us. It was a chance for everyone to gather together and catch up. We would also get information on the days riding ahead of us. It was all systems go today. All of the roads were open and our lead 4×4 was already out marking the track for us, mainly identifying danger sections on the dirt roads which are poorly maintained in some areas.
Very soon after leaving we finally got onto the dirt. One thing to realise is that not all riders are competent on dirt roads. Many riders have adventure bikes but seldom take them off road while others are inexperienced dirt riders. Frank fitted this criteria. He only bought his adventure bike to do this trip and had only completed a few short rides on dirt. He always said he would ride where he could and other times he would take the bitumen alternative.
Brad is a very competent ride with Adam not far behind and they both disappeared into the dust. I was still getting used to my new bike but loved riding it. It was balanced beautifully and very comfortable for me. It didn't take long for me to find my confidence and settle into a good safe speed. I didn't realise that I rode so well as no other bikes passed me and I was only a minute or two behind Brad and Adam when they stopped for me. We always make a point of stopping a number of times to ensure we are all ok and safe. We continued till we reached the bitumen which led us into Tibooburra and our lunch break and refuel.
This next section of our ride was optional for we were going out to Cameron's Corner 140 km away and then back to Tibooburra. Frank decided to stay in town while the three of us headed out on the dirt road/track. Brad's bike already had another problem with his muffler end cap coming loose so we took a bolt out of mine to fix the problem. 10 minutes into the ride the whole endcap fell off never to be found. Brad's bike sounded like a Sherman Tank with half of his muffler missing. It was a great ride, very rough sections of road and one or two very sharp bends that caught many of us by surprise and some riders going straight through, thankfully with no injuries, Adam was one of these. I feel as one with my bike now and was able to keep a constant high speed on the dirt, so I thought until Adam came up beside me with his Go Pro on his helmet filming me as he passed me. This motivated me to maybe open the throttle a little more and finally caught and passed Adam leaving him behind in the dust
We made it to Cameron's Corner mid afternoon. We were told the shop was in Queensland and because of Qld's border closures we were not able to go in. Fortunately common sense prevailed and we were allowed access to the shop and fuel but we were not allowed to go anywhere else. Anywhere else was desert – not sure who we were going to contaminate in the middle of nowhere. We stopped for a drink then headed back to Tibooburra. Brad and Adam leaving first while I locked the gate, I never saw them again until I reached town. It was a great and exciting ride. We were on our way back and we passed many riders still on their way to the corner.
Unbeknown to us it was one of these later riders and very experienced on the dirt had a bad accident on the large floodway (see picture). He suffered incredible injuries and had to be airlifted by air ambulance to South Australia. Thankfully we had our medical team always following us and our breakdown car following with a bike trailer to recover his bike. We only heard about the accident at breakfast as they worked late into the night to evacuate him to SA. Apparently we heard he spoke to his wife from the hospital who wanted to know who was going to do the work around the yard now and hung up on him. He had many broken bones and severe internal injuries. We heard later that he was progressing well and will make a full recovery. It made us realise how easy it is to come off your bike especially the high speeds we have been doing.
Day 4 – 21st October
Tibooburra to White Cliffs to Broken Hill
There were a few options today they told us after breakfast. Riders could follow the same route as yesterday back into White Cliffs then another dirt road into Broken Hill or you can follow the bitumen back into Broken Hill. I followed Frank's lead today and stayed on the bitumen and did some sightseeing on the way to Broken Hill, besides I needed to get a spare fuel tank to carry spare fuel for the next days ride which had over three hundred kilometres between petrol stops. Brad and Adam headed to Broken Hill via White Cliffs while a number of riders decided to have a rest day and take it easy with just a 350 km ride today.
Milparinka was our first stop just 30 minutes ride, we stopped to check out the old gold mining town where a number of the old buildings are still intact with the local pub still trading for the tourist trade and a few of the scattered locals. Frank and I had a drink in the pub then headed off for Packsaddle on our way to Broken Hill. While gold was discovered here in 1870 it was another 10 years before the main rush started mainly because of its isolation. The nearest settlement was Wilcannia as Broken Hill had not become a settlement by then. Today Milparinka has a population of 70 people.
We left Milparinka and headed to Packsaddle approximately 150 km from Broken Hill and another fuel and lunch stop. I left Frank at Packsaddle so I could get into Broken Hill early afternoon to find a petrol container to sit comfortably on my bike. Another easy ride into a Variety Club checkpoint just outside Broken Hill. While at the checkpoint we had to see how long we could balance our bikes with our feet off the ground. My time 1.4 seconds. As a charity ride you pay for everything to raise additional funds and it cost $10 to be humiliated. Later I was to learn that Frank bribed the judges by giving them $50 for them to hold his bike for him and that night he was declared the winner with a nice bottle of Jim Beam. I went looking for bike shops hoping to find something that would work and apart from a standard 5 litre plastic petrol container there was nothing else. I had contacted another bike mechanic who said he would have something to help me out so I headed for Pete's bike parts only to find he only had a 5 litre plastic container. The difference with Pete he found some tie down straps and secured the container to my bike so an atomic blast would not move it then didn't charge me as my ride was for charity, that was his small donation. You remember people like Pete and I thank him very much for his help and generosity.
I still had plenty of time left as the others were still on the dirt so I headed up to Silverton where I met Frank and another drink in the Silverton pub. Brad and I had only been here 2 years before and this was my 4th trip here so there was very little else to see so I headed back to Broken Hill to finally meet up with Brad and Adam. They told me of their adventure of riding in soft sand for 50klm and Brad getting a flat tyre – sounds like fun, glad I wasn't there to join them in their exciting day. We still had enough daylight to do a bit of sightseeing so we jumped on our bikes and checked out some of the sights within the township.
On our way back from sightseeing we collected our bags and then back to the motel which had the most comfortable beds you could imagine. These had to be one of the best beds I have ever slept in. Make sure you stop at the Red Earth Motel for as great nights sleep.
Chinese for dinner that night and filled our bikes and jerry can then an early night.
Day 5 – Thursday 22nd October
Broken Hill – Ivanhoe – Condobolin
This is the leg that I have been dreading the most. The temperature forecast was 35 degrees, it is over 600 km long with nearly all of it on dirt. This could be a 8-9 hour ride depending on the road/ track conditions. Frank decided this was beyond his abilities and headed off on the bitumen to meet us in Condobolin.
We were told that our first stop would be Ivanhoe 320 km away for our first fuel stop – my bike would get me 280 km maybe a little further as I wouldn't be riding it so hard on the dirt as we did on the tar. That's why it was so important to get the fuel container. We headed off after another great breakfast and ride updates. We were told that Menindee service station was going to be open for us to refuel which was great as it was just over 100 km from Broken Hill and 200 km to Ivanhoe.
After refuelling in Menindee we headed off with Brad in front and me not far behind him and Adam a little further back. The road conditions were fairly good with us being able to open our throttles and we were reaching speeds of 140 kmh which is scary but once the adrenaline starts pumping you forget about the danger. To give an example of how powerful adrenaline is I injured my knee 2 weeks before the ride and I even contemplated pulling out because of the pain. Just to sit on the bike was painful and to try to stand I had to pull myself up by the handlebars. Adventure bike riding is about balance and much of that is achieved by standing, sitting and standing many many times during a ride. I remember even bumps on the tar roads would send bolts of pain up my leg and I knew the dirt was going to cause me considerable pain. BUT the moment I hit the dirt the pain disappeared I was standing easily, crouching and moving like a 20 year old. The moment I hit the tar again I could barley stand because of the pain and any bumps reverberating pain through my leg again. Every time I was on the dirt I rode without pain. Adrenalin or mind over matter?
Brad was just pulling into Ivanhoe at the Variety check point when I pulled up behind him. We grabbed lunch which was provided and no sooner sat down and Adam pulled up. We had to have a one hour break before we were allowed to leave. It was a long hour as we knew the next 300 km was going to be tough as the day heated up. Finally we were allowed to leave in the order we arrived and we were on the road again and straight onto the dirt. We were very comfortable now doing the higher speeds and we covered a lot of distance very quickly. Its funny how a scare can reduce your confidence quickly, just one hole in the road you miss or a bit of soft ground you don't see that moves your bike dramatically and scares the s..t out of you. Remembering this is not a race I finally slowed down to around 100 kmh. That was until two bikes came screaming by me and forgetting about this not being a race I took off after them again reaching speeds of 140+. We were now on a track running beside the railway line and I could see the dust of the two bikes in front of me and I was catching them feeling very proud of myself as a 67 year old but that was as far as I could get as the amount of dust they were throwing up kept me at a distance that I could not recover so I dropped back and just rode more comfortably but thrilled by the chase.
My fuel light came on and I knew I had another 40 km before I had to stop and then I saw Brad pulled to the side of the road. He had run out of petrol as his two smaller tanks weren't pumping fuel through. We took my spare fuel and shared it between the two bikes giving us both enough fuel to make it into Condobolin. Before we had finished Adam caught up to us and the three of us rode into town together. We found our accommodation and booked in. All we had to do was to get our bags and shower.
Unfortunately we heard there had been another accident and the baggage truck was nearest and rendered assistance and as a result our bags were a couple of hours late getting to us. There was a lot of speculation as to what had happened and more importantly to whom.
All of our questions were answered when we heard the truck had arrived and we all went to find out what had happened. Frank had taken the tar road, being uncomfortable on the dirt. Unfortunately Frank got a blow out on his bike causing him to crash, fortunately he suffered minor injuries but his bike was a write off. This could have been much worse, thankfully he had quality riding jacket and pants. Frank spent the last day back to Dubbo travelling in the donkey seat in the baggage truck.
We finally got back to our Motel around 8pm had showers and headed out to get dinner then back to bed after a very big days riding.
Day 6 – Friday 23rd October
Condobolin to Dubbo
The last day. There was a leg of 100 km on dirt today but I decided to do the tourist route again It wasn't a big day so I was happy to do my own thing while Brad and Adam covered the dirt leg together. I had a leisurely ride stopping to photograph the wheat farms and the countryside that had recovered so well from the devastating drought from the previous years. I took a detour to the Parks Radio Telescope for a look around and then back on the bike and headed for Dubbo.
Coincidentally I ran into Brad in Dubbo and we headed out to Pickles Auctions who were the Major Sponsor of the event. They provided lunch for us, the local press and a photo shoot completed the ride.
There were only the two accidents with injured riders. I talked about the first horrific accident but the second incident has a story attached to it. My good friend Tony Mowbray – from my sailing days, also had a friend on our ride. He gave me his name to chase him up as we had something in common. I forgot for the first few days and as we were coming to the end so I thought I had better make contact. I asked another group if they knew him and as it turned out they were his riding partners. They told me that he had broken his leg the day before and was taken to hospital. Apparently he came off in the loose sand breaking his leg, it happens all too easily. So I never did get to meet him. As far as I know they were the only two accidents involving injury.
I forgot to mention Brad's bike with its broken muffler in Tibooburra. When he got back from Cameron's corner he purchased a few steel wool rolls, the coarse wiry type. He packed this into his muffle and wired it in, while it was not perfect it allowed him to finish the ride albeit noisily. A week after we got home he sold his KTM and bought a new Yamaha Tenere T7 – good choice.
Another adventure over and looking forward to the next one in March 2021 with a 2 week bike ride through Tasmania and its back roads. Covid permitting.
Getting ready for Tasmania
March 18th to April 3rd 2021